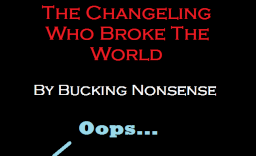 A changeling and a young filly are tricked into venturing to an alternate world, one locked in a permanent cycle of war between legions of monsters, and strange creatures called 'hyu-mans'...
Shortly after arriving, the changeling does something that may ultimately end the cycle of war, but only in the most disastrous way imaginable...
But... it can't really be possible to 'break' the world... can it?
This story is closely linked to Nor Iron Bars A Cage, and loosely linked to Saving Sombra.
Chapters (7)