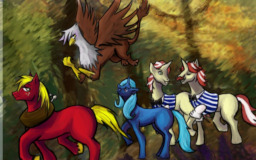 Source
Some things never change, but some things never stay the same.
The second is especially true for a mismatched group of individuals who, through pure coincidence, wind up being the only thing standing between their world and disaster.
But they just might have a shot at becoming heroes, if they can figure out how to work together.
Or just run off in completely different directions. That works too...
Sequel to a previous story of mine, Through a Glass Mirror. It is highly recommended that you read that first, or else you will likely not have any idea what's going on. If you have read that story, then I hope that you will take the time to read this one, as well.
Please ignore the cover-art for the time being, it is in the middle of being fixed.
Chapters (10)