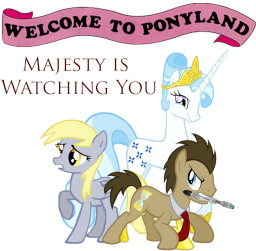 When the TARDIS lands in ancient Ponyland history, Derpy is overwhelmed by the peace and beauty of it. So why is the Doctor so scared of what lurks inside that castle? Now they face a terrifying power that hides behind a regal smile, and she will not be denied.
Dedicated to Lady Moondancer, archivist of G1 MLP.
Amazing vectors created by Kiddysa-Nekovamp, Boomersimon, and Tygerbug.
Chapters (1)