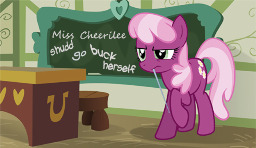 After her students release the spirit of Discord on an official field trip, Cheerilee finds herself out of a job. With no opportunities in Ponyville, the schoolmare takes a job offer in the inner city area of Canterlot's old mining town. Can even she overcome the insanities of her colleagues and apathy of her students in time to pass her next annual review? And who is the mysterious backwards-talking filly following Cheerilee around? Luna's School for Disadvantaged Youngsters will never be the same!
Tv Tropes page can be found here.
Cover art based on work by blackgryph0n, used with permissiom.
Chapters (13)