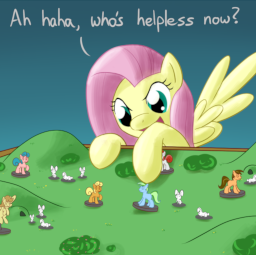 Source
Fluttershy is a simple pony. Being an animal caretaker, she doesn't really have much excitement in her life.
It only makes sense that she manages to become a general for the Equestrian army.
Now… with the help of an awesome veteran General, a Captain that is ever so close to insanity and a turned on Sergeant that seems to fall in love with everything she sees, Fluttershy will hopefully save Equestria from impending doom.
---
Cover art by Whatsapokemon.
Chapters (1)