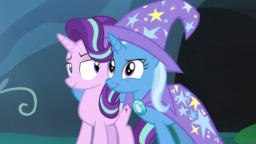 Starlight Glimmer and Trixie have learned much about friendship and each other ever since they met, but their latest challenge proves to be the toughest yet. As Princess Twilight and her close friends visit a faraway town to solve a friendship problem, Starlight is tasked with taking care of the Castle of Friendship and resolving any related problems, and Trixie agrees to help out.
Unfortunately, that's the easiest part of the day, and it doesn't take long for them to regret helping out.
Thanks to -TGM- for editing.
Chapters (1)