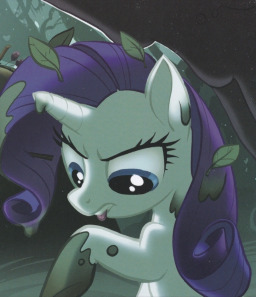 Rarity has always prided herself as being a generous mare, but ever since the debacle with the Friendship Journal's publication, she has felt the need to send gifts or help to ponies she wronged in the past. The degree to which she acts generously may be excessive, but Rarity knows that it'll be for the greater good. Maybe she can rebuild her damaged reputation, but like most situations, generosity comes first.
When she tasks herself with helping the Wonderbolts, Rarity has no other choice but to perform one of her least favorite activities. It's the worst possible thing, but it's also the best opportunity to show the world how much she truly cares for other ponies, even if that means subjecting herself to something genuinely awful in the process.
It just won't be a clean process.
An entry for the Barcast's Make Rarity Not Garbage contest.
Chapters (1)