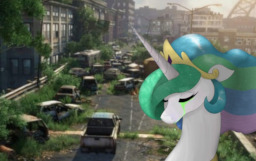 Source
He was a simple stallion, with a simple life in Equestria. That's all he really wanted out of his early retirement after he was laid off during the economic downturn. But, when unfinished business brings him back to Earth after nearly 20 years, he'll learn what happened to humanity while he was living the life of his dreams...
---
Written for the Friendship is Optimal Writing Contest. Also, it's a horror story, as promised, for my annual Nightmare Night in April Writeoff.
Special thanks to the Optimalverse Community Discord for help with getting and building the initial idea, and for proofreading the story. Please come by there if you want to talk about and read more stuff like this!
I tried a slightly different interpretation of CelestAI here, as having those emotions that people like to give her, but still being a cold and uncaring paperclipper AI on the inside. It's the one I've been using for my community-based rewrite of the original (based off our RP on the Discord), so I hope people like it. Be on the lookout for more FiO related stuff from me, as I've been getting ready to post a flood of updates qnd new stuff!
Chapters (1)