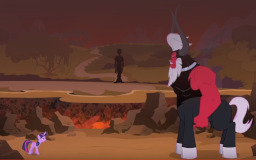 When Twilight Sparkle is unable to defeat Tirek with the powers of 4 princesses combined, she must call upon an even greater warrior...
...Tirek never stood a chance.
---
In every author's career, they create a story, THE story, to which all of their other works are compared. THIS IS THAT STORY.
Fillies and Gentlecolts, I give you my magnum opus: the greatest story ever written.
WARNING: The awesomeness may blind you.
Chapters (1)