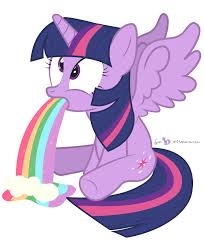 Source
[ Insane Random Comedy (and possibly Eldritch horror?) ]
One day Twilight was vomiting. This didn't stop.
This is the only story that asks the question...
What if all the ponies were vomiting and they didn't stop?
DON'T YOU WANT TO KNOW THE ANSWER?!
---
IT BEGAN WITH A DISCORD CONVERSATION. IT PROGRESSED INTO A BLOG POST. NOW, IT IS A WORK OF ART FOR YOU TO BEHOLD AND REJOICE! THIS IS THE ONLY STORY THAT ASKS THE QUESTION!?!? YOU HAVE TO KNOOOOOOOOOOOOWWWW!!!!
I'm not sorry.
Chapters (2)