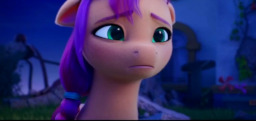 She genuinely thought it would work...
Sunny Starscout has lost all hope, after her search for the crystals turned out to be all for nothing, she wanted nothing more to do than to just go home and accept defeat.
But can a letter from an old family member be enough to lift the downhearted earth pony's spirits?
(Alternate take on the scene where Sunny finds the earth pony crystal)
(SPOILERS FOR MLP: A NEW GENERATION!)
Chapters (1)