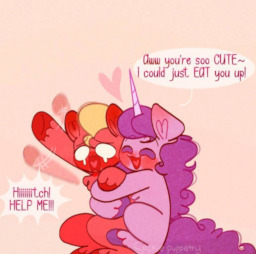 Source
Sprout Cloverleaf, former emperor of Maretime Bay, has been sentenced to about two months woth of community service by Hitch Trailblazer for his war crimes against ponykind. That would be bad enough for Sprout, but in addition to the community service, he also has Izzy Moonbow be his supervisor.
Sprout felt like the next two months would be a living nightmare, especially with Izzy being there, but will he ever warm up to the unicorn over the next two months, and maybe even gain some feelings towards her?
Inspired by these pieces of fanart (one of them is the cover of this story):
https://derpibooru.org/images/2754265?q=izzysprout
https://derpibooru.org/images/2769930?q=izzysprout
(Note: I changed the cover for the story because I just found an image that better suited the story. The link for the original fanart is still gonna be there as the source of inspiration.)
New chapters published whenever they are ready.
Chapters (4)