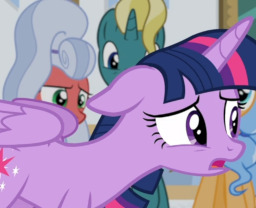 Part of the Valiverse AU.
(Highly recommended to read the rest of the Valiverse stories (stories in my profile) for you to understand somethings in the story, especially about Sombra).
Twilight was going to be crowned the third ruler of Equestria, but she has her own worries. Specifically about her friends. So Celestia had a talk with her former student.
Takes place during the last episode
Celestia and Luna doesn't retire in my Universe. Twilight becomes the third ruler. Forgive me, but I am too attached to the Two Sisters. Constructive criticism is encouraged!
Mentions of:
- Pharynx x Luna x Sombra
- Thorax x Celestia x Discord
Chapters (1)