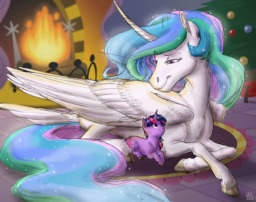 Source
It is Heartswarming Eve, and filly Twilight Sparkle wants to stay at the empty castle with Princess Celestia, refusing to go home with her parents even after the monarch has sent all the staff back to their families. But why?
Twilight's answer leaves Celestia contemplating all the ways that make the lavender unicorn so special.
---
Thank you to the wonderful readings by Lonely Fanboy48 over here and one by Agent0Fluffy over here!
And also, a Russian translation by GreatDragonLord over here!
Chapters (1)