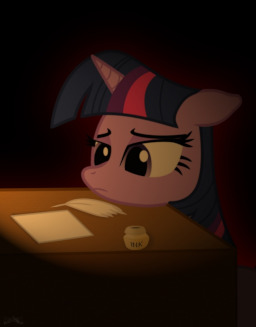 This story is inspired and based upon 4everfreebrony's song with the same title, and explores the question, "What would have happened if Princess Celestia never responded to any of Twilight's letters after she sent her to Ponyville?"
It was the eve of the Summer Sun Celebration, and Princess Celestia had sent her star pupil to Ponyville to oversee the preparations for the coming event and, more importantly, to make some friends. However, Twilight's thoughts were dominated by an ancient prophesy, which stated that the return of an ancient evil was soon to return. Ever faithful to the Princess of Equestria, Twilight hurried to complete her duties and find away to counter this looming threat. Following a night of stress and many challenges, Twilight has finally found herself confronting the evil from the prophesy! Can she hope to succeed without her mentor, Celestia, present? And even is she can, will she be able to cope with a life without Celestia afterward?
If you enjoy the story (or even if you don't really) please considering listening to the original song! https://youtu.be/ajA_RBJ0cYw Artwork is by iffysna94.
Chapters (1)