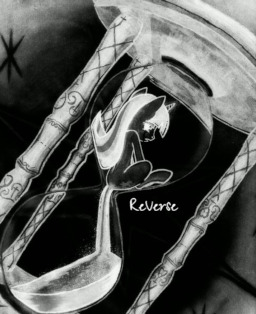 Source
When Twilight Sparkle's life grew more full of accolades, it grew more full of demands. First, she became Twilight Sparkle, the element of Magic; then she became Twilight Sparkle, the Princess of Friendship. Then the savior of two universes, then the rejuvenator of the Tree of Harmony, then owner of the Castle of Friendship. The Redeemer of Starlight Glimmer, the aunt of the world's most powerful alicorn, the headmistress of the School of Friendship. So it went.
And at the end of it all, she realized that Twilight Sparkle didn't really exist anymore - all that was left of her was a series of titles, awards and obligations, and the pony that held it all together was little more than a puppet to the demands of the world around her.
And when she understood that Twilight Sparkle was as good as gone, a second option opened itself up to her: if she could unfetter herself from the glory she had worked all her life to obtain, would Twilight Sparkle exist again - not as a name attached to a role, but a pony with her own hopes, dreams and desires?
And if she did, what would come next?
~~~~~~~~~~~~~~~~~~~~~~~~~~~~~~~~~~~~~~~~~~~~
A brief story about time, reality, pseudophilosophy, self-actualization and surprisingly tasty desserts.
Cover art by KzKsM.
Part of the Re- 'Verse.
Thanks to Wanderer D, Flashgen and Door Belle for their help proofreading, editing and offering advice.
And, more than anything else, my immense thanks to GaPJaxie for inspiring, reviewing and talking to me about this story. Without him, it literally would not exist.
Chapters (3)