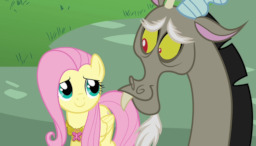 Source
Fluttershy is going to die one day. So will the rest of Discord's friends - he knows this, and is incredibly unhappy about it.
The time comes and goes and the world ends. Then Discord meets a young dragon girl with yellow scales and pink spines, and the world begins again. And again and again and again...
Teen for mentions of sex and death, but nothing graphic.
Cover image is just a screenshot from "Keep Calm and Flutter On"
Chapters (1)