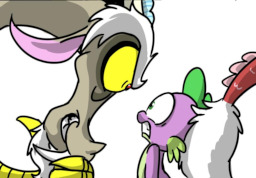 Tonight, on a very special episode of My Little Pony…
Spike may have finally found someone who can reveal the identity of his parents. But when that someone is Discord, has our little dragon bitten off more than he can chew?
~-Spike jumped up from the couch in excitement. "Then you've actually met them!?"
Somehow, Discord's grin managed to stretch even wider. "Ohhhhhh yes. In fact, I've known your father since the day we were born! And your mother… well let's just say she and I are intimately acquainted…"-~
Chapters (1)