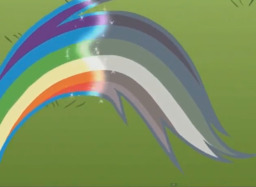 After a night of gossiping between Rainbow Dash and Applejack, some of Applejack's apples have lost their red color and Rainbow doesn't have a spot of red on her!
Twilight does some investigating and determines Rainbow Dash caught Farbensprites, a cousin of the parasprites, that eat color! These nocturnal creatures eat red the first night and move down the rainbow of colors each night.
Rainbow Dash is troubled by her loss of color. Will she ever get her colors back, what if she loses more colors?
Chapters (1)