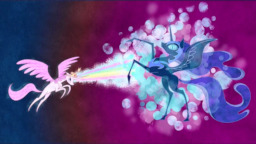 By now, you have probably heard the story of Princess Celestia banishing her sister to the moon. What you probably did not know is that before that happened, Equestria was heavily divided by a war. A war based on lies and deceit, resulting in many dying like pawns in a bid for power.
History is written by the victor, which is why this war was largely forgotten and Nightmare Moon's banishment was written of as a mere fable.
There are those that still remember, however. In hushed tones, they speak of the Twilight War.
Chapters (5)