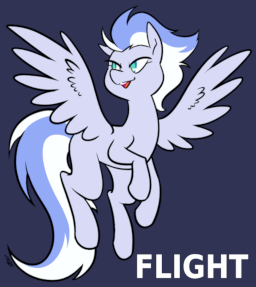 An oppressive batpony empire called The Cloud have brainwashed pegasi into believing that flight was an impossibility. In the little town of Woodburn, a pegasus named Aether Storm has a nearly fatal accident, falling from a cliff. When she misses the ground, the rebellion begins.
Flight follows her revolt and the revolution that follows, exploring the nature of Freedom, Truth, Depression, and Revelation.
.
.
This is a prequel to Flight, but it's supplementary material—not prerequisite.


» picture by Egophiliac, on commission
Chapters (6)