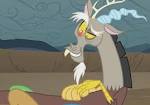 Discord's tooth, unknown to anypony, except for Fluttershy, has it's own chaotic powers, and it's gone! Princess Twilight, with a newly learned locator spell, believes she has found it, lost somewhere in time, and they have no way of getting it! Twilight then remembers that she knows two ponies who were perfect for the job, one madpony with a box and his companion, me, Brightly Litt. Twilight finds me, the only pony that can contact the Doctor and save the past and future from utter chaos and destuction. . .AGAIN. Follow along as me and the Time-pony travel back in time, only to find the tooth in the possession of a very screwy pony, Screwball.
(Perverted Bronies beware! Misleading content. DO NOT take inappropriately! [I did not realize the assumptions of perverted material in this story!])
Rated 'RANDOM' for Doctor Whooves moments! For your enjoyment!!

Chapters (9)