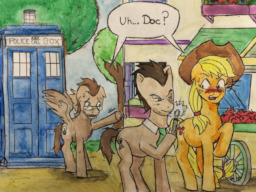 Source
This story is a sequel to Discord's Tooth
---
The Doctor is acting strangely. He doesn't feel like getting out of the TARDIS when we land in Ponyville in the past, where the Cutie Pox outbreak is first recorded, and he starts to tear up whenever I try to comfort him. But, when I leave, the Doctor runs about like the Headless Horse, trying to fix a problem he caused long ago. Can he do it, or will it take a certain assistant and a newfound unicorn friend with a special talent to help him confront his mistake? Found out in this sequel to "Discord's Tooth."
*Special guest OC(s), Literary Serenity, Ponyess, and Gizmo Gear!*
*UPDATE* Twilight was added because she makes a short appearance in a flashback, so I had to add her to the story. Sorry, Twi!!!
Cover Art thanks to https://www.fimfiction.net/user/Sipioc
Chapters (4)