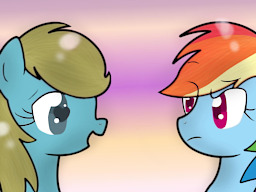 Com Hurri just rolled into Ponyville. She tries to settle in, and Pinkie Pie is prepared to do everything to give her a good time. But good turns into wonderful when she meets a very, particular pony...
A pony who makes her feel special. maybe even.... beloved...
but how does she gain the heart of this Rainbow maned dare devil?
starring Com Hurri
cover art..... also by Com


and of course Com's Note: This ship is a crackship and thus should not be taken seriously
special thanks to..... Com Hurri....
Who says up late to write this story? who comes up with the story line? me.... XD
Chapters (1)