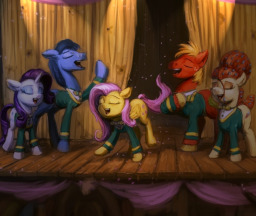 Source
Ever since joining the Ponytones, Fluttershy has slowly been building the confidence to sing in front of larger and larger crowds; her upcoming performance on Nightmare Night will be her biggest accomplishment yet. Even still, she isn't aware that the tower of courage she has built is standing on a fragile house of cards, and almost anything could cause it to collapse. Even a few words from a friend.
A Nightmare Night story.
Edited by palaikai. Cover art by AssasinMonkey.
Chapters (1)