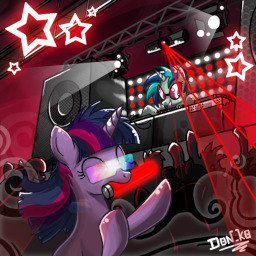 (2nd Person Romance Story starring stoner "you" and Twilight Sparkle)
It was the night of the Harvest Moon Music Festival when you met Twilight Sparkle, a lovely mare, just after a little fun to offset all the stress in her life. You hit off really well with her and you can both feel a spark, but you wonder what you did wrong when you wake up in your hotel room with some missing memory and Twilight nowhere to be seen.
Author's Note: Alright people, let's get this out of the way. Clover. Yes, it is pretty much marijuana in my story. Coffeebean was the one who came up the concept and I'm using it for my story. It's not just there for fun, it will have an impact on relationships with multiple characters. Second off, this story will have a very sensitive matter at the heart of the story. I can't tell you what, simply because I hate spoiling a story. But remember when I said this is going to be an emotional rollercoaster? Think of one of those super coasters that have like sixty loops and spends half the time upside down. But I assure you, it will still feel like one of my stories, having happy, funny, sad, and romantic parts to it.
Chapters (8)