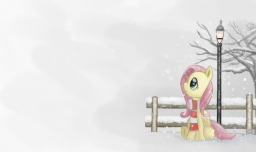 As one of Equestria's more popular writers, you relish the chance to get away and work on your newest romance novel and some side projects, when you meet a particular yellow pegasus who happens to be a fan of your work and oddly enough, you're a fan of hers as well... She just wishes you weren't, because "It's so embarrassing..."
And here it is, the last in my "Mane 6" stories, By a Fireplace! This story, like all the others, takes place during all the others and has its own little niche in the timeline. I've had a lot of questions about the continuity of my stories, but please bare with me. I've got a plan, a timeline, and graphs.
Anyway, about the story itself... Hmm... Well, nothing really special or no warning I should post... This should be a pretty tame story, but if there's a development even I didn't expect, I'll make sure to put it here.
Well, enjoy!
Chapters (8)