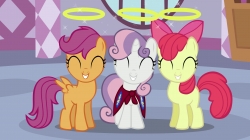 (2nd Person Story starring Child-You and the Cutie Mark Crusaders)
You can't help but feel a little sad after your mother told you that you and her were moving to Ponyville; you were leaving all of your friends and family behind. But you didn't have a choice in the matter; you were along for the ride, for better or worse. You try to take solace in your mother's words:
"I'm sure you'll make all sorts of new friends."
You had no idea those new friends would get you in all sorts of trouble.
Author's Note: This was my first fic I did for the SFG when I joined and it sort of shows. It's been edited and fixed, but my style has definitely changed since then. Anyways, enjoy.
Chapters (10)