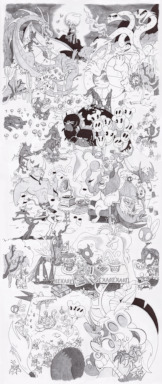 Every year, hybrids and creatures with chaotic hearts are drawn together in the Everfree Forest by their patriarch to take part in an evening of rowdiness and potential debauchery. This year after Discord's reformation, however, things don't exactly go as planned. But with the God of Chaos involved, does anything really go according to a plan?
Inspired completely by the cover art, which came from Lumdrop on deviantArt. Used with permission.
Rated teen for drunken carousing and some suggestive dialogue.
Chapters (1)