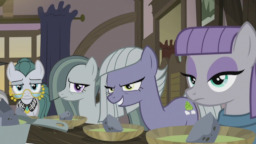 This story is a sequel to One Boop Mare
---
Related to the one boop mare continuity :3
The Pies are a quiet family of Earth Ponies. They farm rocks for a living and have very peculiar traditions even among earth ponies.
They are also some of the physically strongest and capable fighters on the planet.

The changeling army that swarms in on their doorstep seem sure that they are going to be able to plant their new hive on this farm. Igneous and his Wife Cloudy along with their daughters have another idea in mind.
Chapters (1)