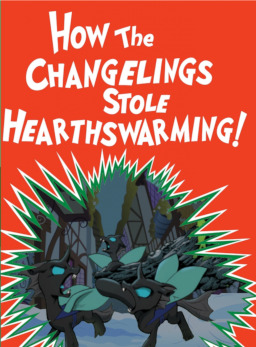 T'was the night before Hearth's Warming
throughout all of Equestria.
Cold wind whipped the windows,
yet inside all kept cozy.
Every mare, every stallion, every colt and each filly,
was sleeping quiet soundly 'neath star-studded skies.
Their souls full of cheer, their dreams full of presents,
no one could imagine a more peaceful scene.
But far off from the land ruled by Princesses two,
someone was awake; with dark schemes for the evening.
Will Hearth's Warming be saved by an unlikely hero?
Or will a spiraling narrative ruin it forevermore?
---
Written for PastCat for Jinglemas 2021
Special thanks to Level Dasher and ScarletRibbon for prereading and helping to tighten up my prose considerably.
Chapters (1)