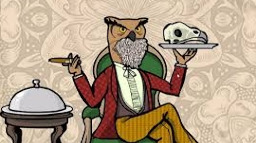 Hundreds of rats, mice, and rabbits fill its staff. A mongoose of exquisite culinary taste and skill, aided by a team of two dozen guinea pig cooks, prepares only the best foods for its guests. Its rooms stretch ten floors down, accommodating pets of every taste. All managed by a single, highly organized owl.
That is the Hotel of Animals. And on the outside, that's all there is. Opalescence can choose her own pampering without her owner's poor, though good-natured, decisions. Winona is free to taste the life a luxury for one day, to see if her owner was right or wrong about the pointless whims of the fancy. Philomena is able to escape the adoring eyes of passing politicians, the same way her owner wishes to as well.
But there is genuine joy, and then there is the mask of it; it is one a sad soul wears to brave the world, one a hunter abuses to lure its prey. And that mask is here, in the Hotel of Animals.
Chapters (1)