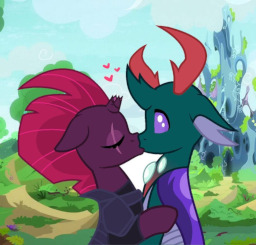 Source
Featured on December/17/2019! Thanks a whole bunch!
(Cover art found on internet, since I'm unable to commission cover art unfortunately

)
It's usually easy to impress Tempest just by showing up in a new set of body armor, but Pharynx hates the one he recently got. Let's just simply say that the armor exposes his midriff. Yeah, and he's still pretty ticked off about it.
Worse, it gives Tempest some rather... "good access to his body" as she calls it, though her personal definition of that phrase is "full-on physical teasing."
Hey, it's not like a tough guy like Pharynx would actually enjoy that type of activity, wouldn't he?
(Warning: Involves Anthro, soft F/M tickling and tummy teasing/slight navel play.)
Chapters (1)