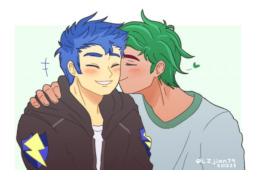 Source
Flash Sentry knows how much it hurts to get dumped after a long-term relationship. His time with Sunset Shimmer wasn't the best, but it still hurt when it ended. So when he finds out that Timber Spruce got dumped by Twilight Sparkle, he knows what he must do: He's gonna help Timber out of his funk, get him back on his feet, and get him back in the game. Because that's what bros do.
---
A submission for the Spring Fling Contest.
---
Absolutely adorable art provided by LZjian, go give them some love!
Chapters (5)