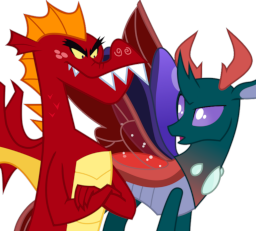 It's time for the Royal Canterlot Gala, where the Royalty, the wealthy and their friends all party at the Canterlot Palace!
This time, Princess Twilight has invited both the Dragon Lord Ember and King Thorax, and each can bring one guest as well!
Ember and Thorax forcesconvinces Garble, a hotheaded dragon of the dragon lands, and Pharynx, the tough big brother of the Changelings, to be the plus ones.
How will either of them handle a social gathering as big as this one?
Entry for the May Pairing Contest 2020.
Chapters (4)