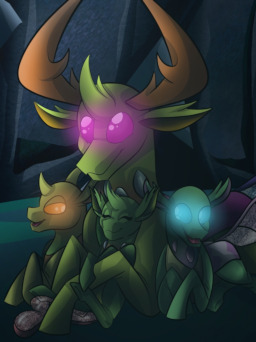 Source
As Equestria is pounded by torrents of summer rain, the changelings take shelter in the dry comfort of their hive. Detained from the outside world until the sky clears, a pair of adolescent drones come across King Thorax, reflecting on past events and future possibilities as he listens to the rain.
3rd Place in the Poniverse Summerpalooza 3.0: Family is Magic Contest!
---
* Featured 8/9/2017!
* Part of the Love Bug Continuity!
* Artwork commissioned by myself once again from the lovely Percy-McMurphy!
Chapters (1)