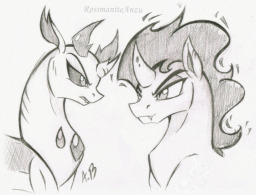 Source
Thorax and Pharynx are taking a hike outside the hive when they stumble across a shady intruder sulking somewhere in the field.
Pharynx vows to properly capture and contain this tyrant, no matter how burly and attractive he may be.
---
This story was a collaboration with eemoo1o. Feel free to check them out and read their stories, they really deserve more attention.
Chapters (1)