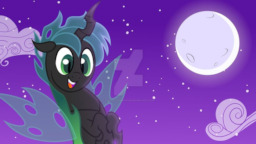 Source
As the (former) prince of changelings, Mothball has never been to a sleepover in his life. Sure, he knows that his girlfriend, Screwball, has been to them countless times with her friends, but that's all he really knows about them.
Good thing his two friends, Cinnamon Stick and Thunder Dash, are planning to change that. How? By having a sleepover at Cinnamon Stick's of course.
---
Co-Written by Melody Song. Thanks for writing this with me!
This story takes place in the "Bride of Discord" universe, which is owned by DisneyFanatic23.
Chapters (1)