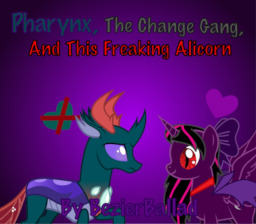 Pharynx's day can't seem to get any worse; first he was forced to go to the gala without his special somepony, now he's being held hostage by an angsty, gaudy-looking alicorn "princess" who wants to be his lover.
Meanwhile, in a desperate attempt to save the changeling prince, the Change Gang journeys into what is known as the "Plot Hole" in order to crash the wedding and put a stop to this toxic relationship.
Did we mention Discord is involved? No? Well he is, apparently.
---
A Change Gang story.
Or rather, "what not to do when writing an OC X Canon fanfic."
In that case; yes, this is a Mary Sue fic.
Chapters (3)