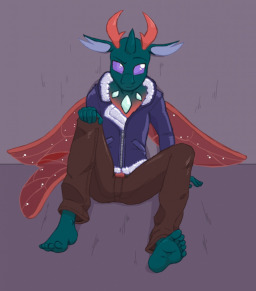 Source
(Cover art by Caroo)
If there's one thing Pharynx hasn't changed along with physical appearance, it's his desire for holes. After all, it's not like one bite-sized hole could hurt a living soul in Equestria, right?
Well, things go just as well as you expect when Pharynx decides to test his wall-kicking skills, for the first time since his transformation, and play a practical joke on the changelings during the latest Feelings Forum meeting.
And if getting his foot stuck in the wall wasn't Pharynx's newest personal definition of "public humiliation," things go off from there when Thorax accidentally pulls his brother's boots off.
Let's just say a lot can happen within minutes; not just for Pharynx, but his now-trapped soles.
(Warning: Involves Anthro and slight foot fetish as well as M/M tickling. Nothing explicit, fortunately.)
Chapters (1)