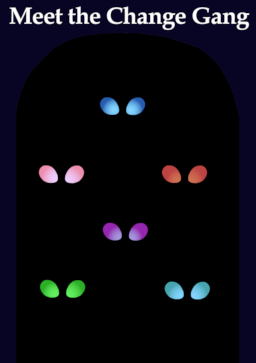 Source
Cover art created by Nitro Indigo from the Art for Fanfiction Group.
"Get a job, gang." That's what the majority of drones tell Venom Stinger and his siblings, all of whom are known as "The Change Gang." All they want is an actual role in Chrysalis' hive, while the last thing they want is to end up turning into those eyesore reformed changelings. That changes when they're sent as spies on a mission to retrieve information about the current condition of King Thorax, who has fallen gravely ill.
But when an unexpected transformation occurs at the wrong time, and the group of drones are suddenly discovered in their new states, Venom Stinger, Cricket Cluster, Flutterwings, Spiny Spectacle, and Scorchin' Heat, along with new gang member Thistle Thorn, all have no choice but to struggle to adapt to their new lifestyle as Thorax's subjects—and to struggle even harder to keep their secret of who they actually work with.
But can the newly-transformed Change Gang protect their new "friends" while trying to hide their biggest secret? And will they ever uncover the reason why they suddenly went through these changes?
Chapters (17)