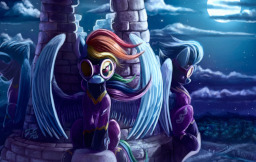 Rainbow Dash. Element of Loyalty, savior of Equestria, and finally a Wonderbolt.
But, after she overhears something she wasn't supposed to, she begins having second thoughts about her childhood dream. Soon, a rather shady organization notices her, and they immediately express their interest...
But nothing is ever as it seems.
Dark emotions can corrupt, and leave you in a Nightmare of envy. Darkness is everlasting, and will always be here. But, sometimes the Darkness is shrouded in a coat of Light and good intentions. Could the Shadowbolts really be Rainbow's Saving Grace?
This story is the brainchild of Little_Draco, and I am making it a reality.
Chapters (2)