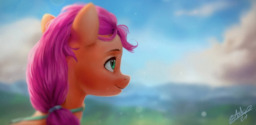 Source
"...I've brought us all together... but, what now!?"
After the events of Sunny's adventure, where will they go next?
Her village saw what Sunny and her new friends accomplished. But who leads them now? Who does she talk to? Where does she find....
"....Help. Is there anypony out there who can help us...?"
Art used: Sunny Day by Assasin Monkey
Chapters (1)