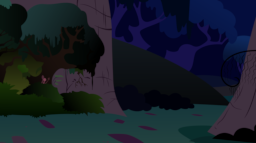 A story, told before Nightmare Night. A story about magical caves, gold, candy, and of course, cake.
This is my first crack at fanfiction in quite a while. Decided I'd do something just a tad-bit silly. The aim of this fic is to be a parody of your general horror story where a less than intelligent character gets in trouble and his friend (as the character is usually a male) goes to try to rescue him, as the protagonist.
Partly inspired by "The Cave", a story on creepypasta created by Archfeared/Ethan I. All credits go to Hasbro for the assets borrowed from the My Little Pony: Friendship is Magic show. This includes characters, settings, backgrounds, races, magic, and all that good stuff.
I'd also like to credit the cover image to Sulyo and a lot of the work put into editing this steaming pile of crap into something mildly readable goes to the loveable ball of crazy known to me as WinterTwister.
Chapters (1)