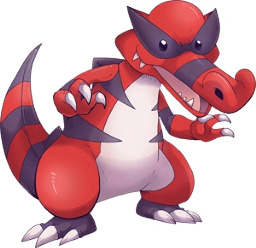 Hi! The name is John Gate. I'm from California, and I work at a pizzeria for a living. Well... I used to. Now, I'm stuck in a land full of magical ponies as a freaking crocodile. That's right, a crocodile. However, not just any crocodile, a Krookodile from Pokémon!
I mean, it would be cool if it weren't for the fact that these horses can't understand a thing I say! Not to mention, some crazy pink pony made me her pet! Well, I can't really complain all that much. At least I have a new little friend. Ain't that right, Gummy?
…...
Eh, he's the silent type.
---
"My Little Pony - Friendship is Magic" is own by HASBRO.
"Pokémon" is own by NINTENDO, GAMEFREAK, and THE POKEMON COMPANY.
Chapters (2)