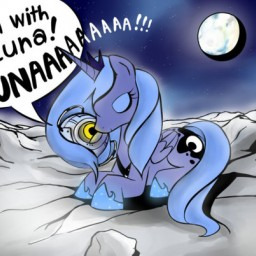 The single stupidest thing you will ever read, a story that manages to take every single reference it can and suck the life out of them like a starved bat-pony.
Includes cameos from Winter Twister (creator of Purple/Blue Skies), Waffles of TheWaffler, Jolttix, as well as a brief usage of Skyward Flame, attributed to Wayofthepen... And some others. If you take any of this seriously in any respect, I pity you. I know I didn't.
Strong language is used, so if you have any aversion to words like "Fuck" or "Shit", you have been officially warned. Also, this was released before the ban on "circle jerk" fics, so please don't taze me.
Chapters (4)