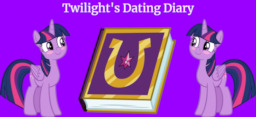 Twilight came across an Equstria shattering, world destroying, universe ending discovery...
She has yet to find her special somepony yet!
After visiting her mom and dad, it dawned upon Twilight that she is getting older, and she has yet to find love! She was just too busy to consider dating anypony. From studying for tests to saving the world, she didn't seem to ever catch a break. But now that she has a bit more free time? Maybe it's time to put herself out there.
Profanity tag for obvious reason. Sex tag for raunchy/steamy innuendos
Chapters (3)