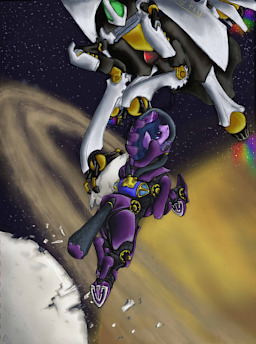 Source
A story of transequine conspiracy and horror.
Ten years ago, Equestria achieved a technological singularity. It did not survive the night. During an event now known as The Fall, the first Artificially Generated Alicorns unlocked the true power of Discord, and became the Nightmares, laying waste to Equestria before mysteriously vanishing.
The sun now lays still in the sky and transequines, the refugees of ponykind, try to find their place in the worlds and spaces left behind, where the body is transitory, where the mind can be fundamentally altered, where a beating heart and breathing lungs are luxuries that some cannot afford.
The Dreamcatcher network exists to prevent the extinction of ponykind, whether by the return of the inscrutable Nightmares, the insidious Discord Virus, or other threats that arise, through any means necessary.
Wonderful cover image commissioned by my good friend Banditfrosty!
Also, big thanks to Tactical!Rainboom, Shoggoth, and Demetrius! I would never have gotten here without you.
Chapters (5)