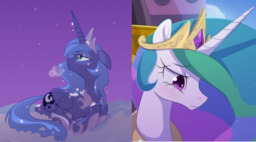 This story is a sequel to PonyFall: The Dawning of Twilight
---
Six long years have passed since that one fateful day in Australia when Discord shoved Matt, Luna, and Michelle through a portal and into Equestria.
Things have certainly changed. For everypony.
Matt, now Feather Stroke, has had to come to terms with his new lot in life all while dealing with the mental anguish of leaving everyone and everything that he knew before, behind him.
Chapters (7)