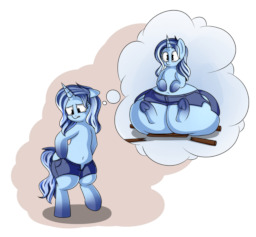 Urban Wave is one of the most well educated urban planners that Equestrian has ever seen, and is at the forefront of a new school of thought when she graduates from the Philydelphia School of Urban Planning. She is perfect to settle a dispute between the ruling sisters: is classic design, or modern planning, better for Equestrian?
Unfortunately for Urban, her resting curse emerges once again to humiliate her as she treks across Equestrian and her body gets her in all sorts of situations.
Contains: Magical weight gain, fat butts.
Story commission by Urban Wave/Linds: http://www.furaffinity.net/user/lindsaypl/
https://www.fimfiction.net/user/338613/Tysk
Chapters (1)