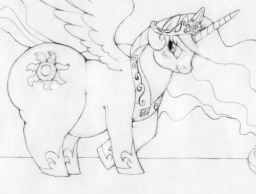 Princess Celestia is a busy mare. Her life is stressful, and the downtime often too short to enjoy before it ends. The stress has led her to develop a habit of over-eating, and while Princess Luna remains the bigger sister as far as mass goes, Celestia's obesity adds to her stress as daily tasks become harder and she worries what her subjects might think of her.
So it is that Princess Celestia decides on a vacation to get herself back in shape, but it does not proceed as she had hoped.
This story was the first-place entry for a private writing contest.
Chapters (1)