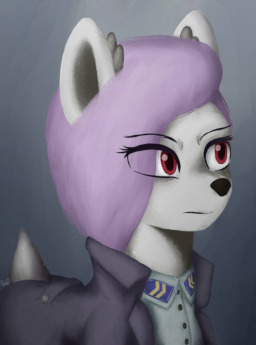 Source
(Written for 2019 Writing Contest for Equestria At War)
When the Deer Republic deposed the corrupt King Johan Jelzek, and heir to the throne Velvet Fairantlers renounced all of her royal titles, Chairstag Kullervo Sirola knew that war with the Changelings was inevitable. However, after the Changeling Blitz smashed through the original Manntlerhim Line, the Deer's Liberation Army knew that they could not hold back Queen Chrysalis' hordes without... drastic measures.
The Deer Republic has all but abandoned most of Olenia to dig in entrenchments only a few kilometers north of the capital city of Hjortland. It is hoped that the more concentrated entrenchments and artillery can hold back the Changeling's infantry waves and panzers. So far, the Sito Line has held fast for several years, but even the toughest of defensive lines need resupplies, and the task to deliver more ammo and other vitally needed equipment falls to members of the Hjortland Garrison.
For Katri Kolkka, a deer who has just joined the Deer's Liberation Army, her squad's delivery of needed supplies will have her trapped on the front, as a Changeling charge forces everydeer to stand and fight against them. There, she will face the horrors of modern warfare, and be forced to fight for her very survival.
Chapters (1)