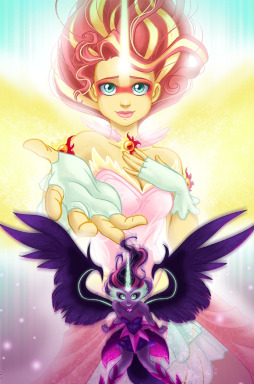 "I have a dream every night," Sunset Shimmer sobbed, "where I am the hero of my story." One night when her dream finally comes true, she finds that Princess Luna's banishment from her story book might not be such a tall tale after all. In Sunset's quest to find friends in Twilight Sparkle, her memories that she had lost from so long ago begin to come back to her. Who's to blame for her anger issues? Twilight, her parents, society, or maybe even herself?
Do you want to audition for illustrations or vocals for the dub of this? Sign up here!
I'll try to update this every few days, or when I possibly can! This is sort of an AU, so there are genderbends and relations in here that might seem odd at first.
Chapters (8)