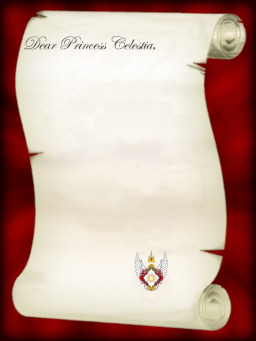 (Canceled tell further notice)
This story follows the journey of my two OC characters Tristem and Cao within the Conversion Bureau universe (specifically Chatoyance's version of that universe) as they try to come to grips with the inevitable extiction of there species and there world.
Uncertain as to weather it is better to go through the conversion and live as ponies or die as humans Tristem and Cao decide that the only one who can help them with there indecision is Princess Celestia. So they decide to write to her asking if she will answer their question and help resolve their conundrum.
Will they convert, Will they die as humans or will something unforescene happen read on to find out.
Edit: From the second chapter on I am no longer writing Celestia's responses to Tristem and Cao. Credit for that goes to the mysterious Lady C. I will not tell you guys yet who Lady C is it will be revealed to you all at the proper time. Until then I'll let you guys guess who it is. Who know though you never tell it just might be Princess Celestia herself.
Image: Princess Celestia's Coat of Arms was created by deviant art user Lord Giampietro I didn't create it.
Chapters (3)